UDOT released the Final EIS on Aug. 31, 2022 and identified Gondola Alternative B as the preferred alternative to improve transportation in the canyon. Gondola B best meets the project purpose and need and provides the highest travel reliability for the public. A 45-day public review and comment period is open Sept. 2 to Oct. 17, 2022.
Recognizing that safety, mobility and reliability are issues on S.R. 210 today, and that it may take years to secure federal, state and/or private funding for full implementation of Gondola B, UDOT is proposing a phased implementation plan starting with components of the Enhanced Bus Service.
The proposed phasing would include increased and improved bus service as described in the Enhanced Bus Service Alternative (with no canyon roadway widening), tolling or restrictions on single occupancy vehicles, and the construction of mobility hubs. UDOT would also proceed with widening and other improvements to Wasatch Boulevard, constructing snow sheds, and implementing trailhead and roadside parking improvements, as funding allows.
These improvements will improve air quality, protect the watershed, and increase the quality of life for residents and canyon users by reducing traffic congestion as private vehicles shift to transit.
Final EIS Preferred Alternatives Video: Part 1 - Aug. 31, 2022
Final EIS Preferred Alternatives Video: Part 2 - Aug. 31, 2022
LCC EIS National Environmental Policy Act Process Video
Summary of Revisions to Alternatives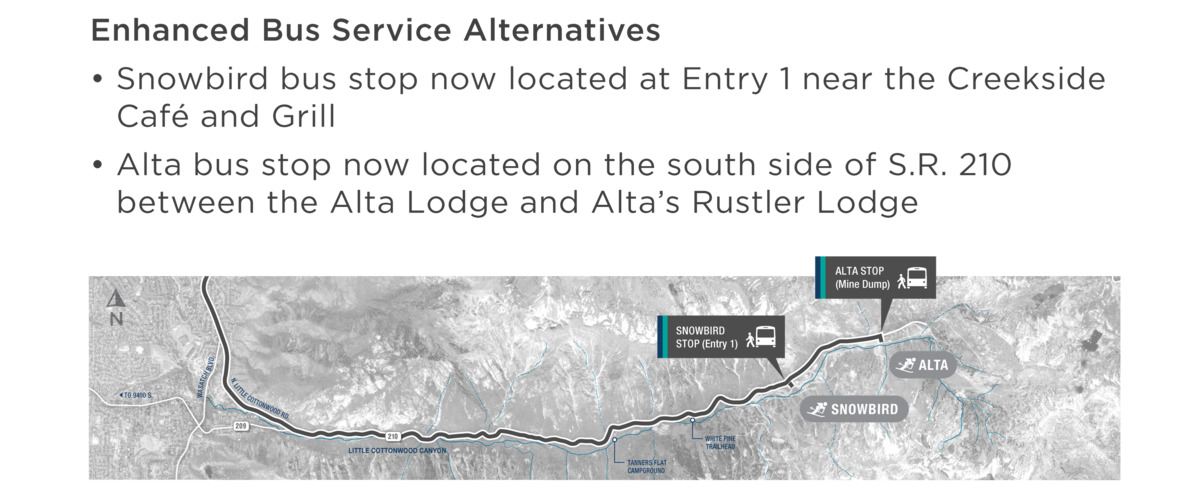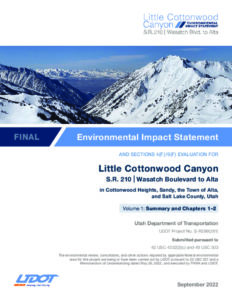 Paper copies of the Final EIS are available at the following locations:
UDOT Central Office, 4501 South 2700 West, Salt Lake City
Whitmore Library, 2197 Fort Union Boulevard, Cottonwood Heights
Anderson-Foothill Library at 1135 South 2100 East, Salt Lake City
Viridian West Jordan Library, 8030 South 1825 West, West Jordan
Cottonwood Heights City Building at 2277 Bengal Boulevard, Cottonwood Heights
Due to the large number of comments included in Final EIS Chapter 32 and size of the chapter, paper copies of the comments are available for review only at the UDOT Central Office.