ENVIRONMENTAL IMPACT STATEMENT
The Utah Department of Transportation (UDOT) began an Environmental Impact Statement (EIS) in the spring of 2018 for Little Cottonwood Canyon (LCC) and Wasatch Boulevard in partnership with Utah Transit Authority (UTA) and the U.S. Department of Agriculture Forest Service to provide an integrated transportation system that improves the reliability, mobility and safety for residents, visitors, and commuters who use S.R. 210.
Ultimately, the partners seek to deliver transportation options that meet the needs of the community while preserving the value of the Wasatch Mountains.
UDOT has released the Final EIS and 14,000 public comments received during the Draft EIS comment periods. Gondola Alternative B with proposed phasing has been identified as the preferred alternative in the Final EIS. A 45-day public review and comment period is open from Sept. 2 to Oct. 17, 2022.
For those needing accommodations including but not limited to translation, captioning, reviewing materials or submitting a comment, please notify the project team at 801-200-3465 or littlecottonwoodeis@utah.gov by October 1.  Paper copies of the Final EIS are available at the following locations:
UDOT Central Office, 4501 South 2700 West, Taylorsville
Whitmore Library, 2197 Fort Union Boulevard, Cottonwood Heights
Anderson-Foothill Library at 1135 South 2100 East, Salt Lake City
Viridian West Jordan Library, 8030 South 1825 West, West Jordan
Cottonwood Heights City Building at 2277 Bengal Boulevard, Cottonwood Heights

Due to the large number of comments included in Final EIS Chapter 32 and size of the chapter, paper copies of the comments are available for review only at the UDOT Central Office.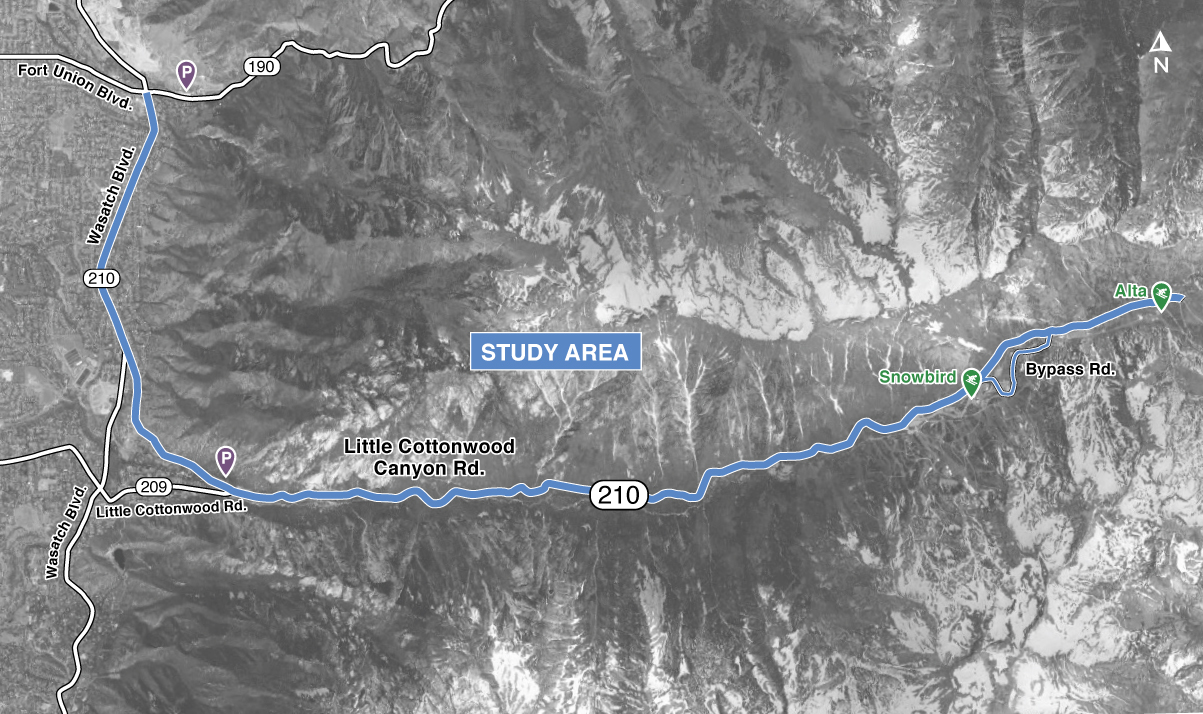 STUDY PROCESS AND TIMELINE
PUBLIC SCOPING
Open House – April 10, 2018
Public Comment Period – March 9 - May 4, 2018

REVISED PUBLIC SCOPING
Open House – April 9, 2019
Public Comment Period – March 5 - June 14, 2019
Public Comment Period – November 4 - December 13, 2019

DRAFT PURPOSE AND NEED AND ALTERNATIVE SCREENING CRITERIA
Public Comment Period - November 4 - December 13, 2019

ALTERNATIVES DEVELOPMENT AND REFINEMENT
Public Meetings (virtual & in-person) – June 22 - 24, 2020
Public Comment Period – June 8 - July 10, 2020

DRAFT EIS
Public Open House & Hearing – July 13, 2021
Virtual Public Hearing – July 20, 2021
Public Comment Period – June 25 - September 3, 2021
Public Comment Period – December 10, 2021 - January 10, 2022

Record of Decision
Select final alternative for implementation
---

Preferred Alternative Identified In Final EIS and 45-Day Public Review & Comment Period Open
UDOT has released the Final EIS and 14,000+ public comments received during the Draft EIS comment periods, and identified Gondola B, with proposed phasing, as the preferred alternative to improve transportation in the canyon. This alternative best meets the project purpose and provides the highest travel reliability for the public. Following a 45-day comment period for the Final EIS, UDOT will formally select an alternative for implementation in a separate Record of Decision (ROD) this winter.
To identify the preferred alternative, UDOT considered an alternative's ability to substantially improve transportation-related safety, reliability, and mobility for all users on S.R. 210 from Fort Union Boulevard through the Town of Alta. UDOT also considered an alternative's environmental impacts, which includes impacts to water quality, air quality, and visual and noise impacts, among others.
Additionally, public input from the Draft EIS comment period informed the decision-making process and reflects the following themes:
Support for gondola and bus alternatives
Support for tolling
Support for phased implementation
Consideration of all canyon users, not just resort visitors
Keep existing recreation opportunities intact
Maintain existing visual experience
Gondola B would construct a base station with 2,500 parking spaces near the mouth of Little Cottonwood Canyon. Each gondola cabin would hold up to 35 people, and travelers could expect a cabin to arrive every two minutes. The gondola can operate independently of S.R. 210, avoiding delays related to adverse weather, crashes, slide offs and slow moving traffic. This alternative has the highest visual impacts but low impacts to the watershed, wildlife movement, and climbing boulders.
The total capital cost of the Gondola B Alternative is $550 million. This includes the cost of tolling infrastructure, transit parking, adding snow sheds, addressing trailhead parking and widening Wasatch Boulevard, which are common to all alternatives. Winter operations and maintenance will cost $4 million per year, and if summer service was implemented, the annual operations and maintenance would increase by another $3 million. While the initial construction cost is the third highest of the alternatives, the overall 30-year life cycle cost is the lowest.
---

Proposed Phased Implementation of Gondola Alternative B
Recognizing that safety, mobility and reliability are issues on S.R. 210 today, and that it may take years to secure federal, state and/or private funding for full implementation of Gondola B, UDOT is proposing a phased implementation plan starting with components of the Enhanced Bus Service.
UDOT does not have funding to implement the proposed preferred alternative. The phased implementation plan will alleviate mobility, reliability and safety concerns that exist today while addressing the long-term transportation need in the canyon.
The proposed phasing would include increased and improved bus service as described in the Enhanced Bus Service Alternative (with no canyon roadway widening), tolling or restrictions on single occupancy vehicles, and the construction of mobility hubs. UDOT would also proceed with widening and other improvements to Wasatch Boulevard, constructing snow sheds, and implementing trailhead and roadside parking improvements, as funding allows.
These improvements will improve air quality, protect the watershed, and increase the quality of life for residents and canyon users by reducing traffic congestion as private vehicles shift to transit.
---

45-Day Public Review & Comment Period
A 45-day public review and comment period of the Final EIS is open through October 17. UDOT is accepting comments that relate to the identified preferred alternative, new and updated information from the Draft EIS to the Final EIS, the assessment of the environmental impacts of the preferred primary and sub-alternatives, the proposed phasing plan, and the mitigation of potential impacts. The public may submit comments through the project website, email, written letters, voicemail and text message.
Once the public comment period has ended, UDOT will consider all comments received on the Final EIS when deciding which alternative and sub-alternatives are selected in the Record of Decision (ROD). The ROD, as the next and final step in the EIS process, will identify the final alternative and is anticipated to be issued in the winter of 2022/2023. Implementation of the selected alternative may only occur after the ROD is issued and when federal, state and/or private funding is identified.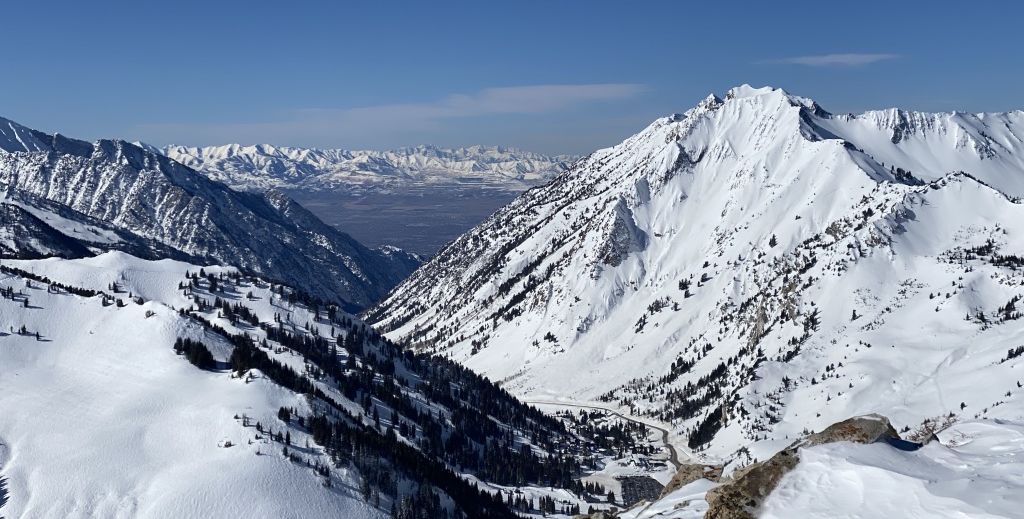 For more information on the transportation planning efforts underway on S.R. 210 and in Little Cottonwood Canyon or to share your ideas, please send the project team an email, give us a call or join the Facebook Group.
Write Us A Letter
Little Cottonwood Canyon EIS
c/o HDR
2825 E Cottonwood Parkway, Suite 200
Cottonwood Heights, UT 84121